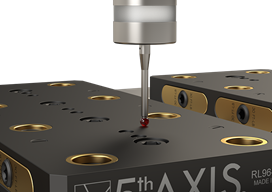 Zero-Point systems are incredibly popular and highly regarded by the industry. If you are looking for an easy way to reduce set up time eighty to ninety percent, look no further.
"Zero-Point" really refers to the positional origin of the workpiece, used mainly for programming. Programming utilizing the zero-point of the workpiece is more efficient than using the corner or perimeter when incorporating a center of rotation, such as in 4 and 5 axis machining applications.
The reduction in set up time is formed from the precision of the repeatable workpiece offset. When used properly, these systems have even more benefits for a manufacturing facility. Here are three commonly overlooked benefits of Zero-Point systems.
Standardize: When done well, standardization decreases guesswork and boosts productivity. Affordable zero-point systems can be integrated shop-wide and incorporated into most machining and measuring tasks. It can also simplify programming, creating a consistent means of part origin regardless of the clamping mechanism.
Process Reliability: When you consider any workholding system's key concerns for 4 or 5 axis manufacturing, building a reliable and repeatable system should be at the top of the list.
The correct zero-point system is a massive help in process reliability. The right system will offer simple ways for the operator to quickly manage part or fixture orientation, accessibility to the workpiece, and overall part and process quality.
Loading a workpiece or top tooling fixture with the incorrect orientation will waste the operation and increase the machine tool collision potential. When we are loading a workpiece over center of rotation, on a c-axis, or in a pallet pool (for example), it is easier than one would think to load in the incorrect orientation, so guaranteeing orientation is very valuable.
Your zero-point system should have a simple way to manage orientation. Avoid systems that require special modifications to manage workpiece or fixture orientation.
Accessibility to the workpiece is of equal importance. Often this involves being able to quickly adjust the overall height of your workholding to provide spindle clearance when rotating a B or A-axis 90 degrees or more.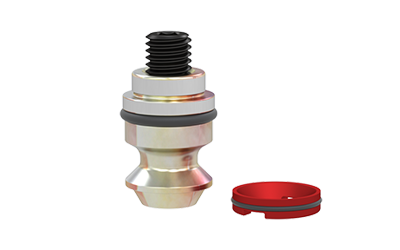 Accessibility through an efficient height adjustment also allows for more tooling options. If you can extend the reach and height from the machine table, pallet, etc., you will not need to extend the tool holder's length or the cutting tool itself. Keeping the tool holder and cutter tool lengths short has several benefits: less vibration, longer tool life, and better surface finishes.
The correct zero-point system should not only allow you to adjust the fixture height quickly and precisely, but it should also offer multiple integration options to do so. Integrated options allow you to build the correct height without numerous components.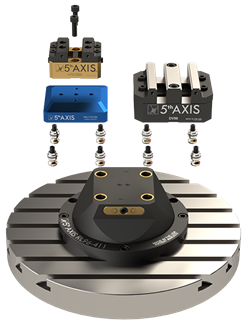 Avoid systems that require multiple components to do this. Too many fixtures create a stacking tolerance, can affect rigidity, and are expensive.
Controlling accessibility and orientation with your zero-point system improves overall part and process quality while simultaneously guaranteeing a reliable process.
Modularity. Modularity is a system property where components within a system can be separated and recombined with the benefit of flexibility and variety of use.
Almost all zero-point systems advertise modularity, and it is one of the most appealing features; however, not all zero-point systems are equal when it comes to modularity.
Modularity simply means the system is highly adaptable and interchangeable for several different manufacturing and machining tasks. A truly modular system will have options… lots of options.
These options will cover horizontal machining tasks, vertical machining tasks, automation systems, measuring processes, net shape, round stock, and more.

As the zero-point system is the base that creates the modular system, users should look for systems that adapt to several different machine tool tables, faceplates, pallets, etc., without requiring customization or modification. Customizations add to the price and create another variable when properly locating the zero-point base.
Looking beyond the "quick exchange" feature when selecting the correct zero-point system will ensure a versatile and flexible system the improves several different manufacturing challenges and provides increased profits beyond the initial cost reductions.
Eric Nekich
Sales Manager
5th Axis
For more information on 5th Axis RockLock zero-point bases specifically, please visit RockLock
For assistance in selecting the correct RockLock base for your machine tool make and model, please visit our 3D Compatibility Tool, See what fits your machine